Ross McKinney Jr.

, MD
Chief Scientific Officer, AAMC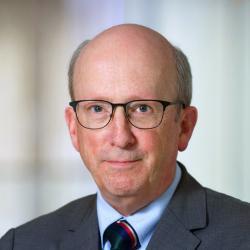 Dr. McKinney is a pediatric infectious disease expert and leads the AAMC's programs supporting medical research and training.
Ross McKinney Jr., MD, leads an array of AAMC programs that support all aspects of medical research and training. He also represents the AAMC nationally on issues related to research and science policy, administration, workforce development, and education and training.
Dr. McKinney joined the AAMC in 2016 after serving more than 30 years as a member of the Duke University faculty. During his time at Duke, he was the director of the Division of Pediatric Infectious Diseases; vice dean for research at Duke University School of Medicine; and director of the Trent Center for Bioethics, Humanities, and History of Medicine. Among his career highlights, Dr. McKinney was first author of the key Phase 1 and 2 studies on zidovudine (AZT) use in children, and he conducted research on the natural history, prevention, and treatment of pediatric HIV disease.
Dr. McKinney received his bachelor's degree from Dartmouth College in 1975. He earned his medical degree from the University of Rochester School of Medicine and Dentistry and completed his internship and residency in pediatrics and his fellowship in pediatric infectious diseases at Duke University Medical Center.